Hey, everyone!
I CANNOT believe it is the middle of November already! October was a crazy busy month and I feel like November has been a little more manageable, but it has just gone super fast! Before we know it, I will be stuffing myself into a turkey stupor and passing out from all the tryptophan!;)
Anyway, I just wanted to update everyone on the adoption, fundraising efforts, etc. First of all, I think I am a fundraising flunkie! It all started with a failed garage sale back in April, which turned into a semi-failure of an on-line garage sale. From there, I've had a couple of sort-of ok ideas (like the
bling shoes
) that have brought in a little bit of money, and some really BIG flop ideas (like the
VIP Card
and the
wasted Saturday
Holiday Bazaar Craft Fair last Saturday). Now, don't get me wrong...I totally appreciate all the support we've received so far, and, honestly, your prayerful support and encouragment means way more to us than anything else! So, THANK YOU for continuing to support us (even when my ideas are flops overall!).
However, do you remember this?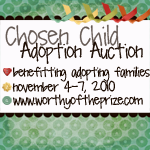 Well,
this
was a success! I don't know for sure what our total was from this, but I do know that we sold everything we put in it, including the things that our friend, Cassie Welch, donated for it (THANK YOU SO MUCH, CASSIE!). Now, that was a boost that we definitely needed. When I get the total, I will let you all know what we've raised so far! But, then, I'm taking a fundraising break...I'm pooped from all the efforts and need a rejuvinating time to hang out with my hubs and play with my kiddos!
In adoption news, we have sent in our I-600a and have heard nothing. Well, nothing from the USCIS office, anyway. What we
have
heard is from our adoption consultant with our agency who told us that families are waiting several months for this process and I also read on a blog I follow (who happens to be about 3 weeks ahead of us in the paper chase) that the USCIS office just told her that it is taking families up to 6 months for this step. More waiting before the "waiting list"...*sigh*. I also just did a little adoption tax credit research and found out that our beloved government is planning to "sunset" the credit for adoptions completed in 2012 so that the credit will be about a third of what we expected. Not sure how that is going to alter the course of our plans...we shall see!
So, let's talk about some more positive news, shall we? (I would hate to ruin my eternal optimist reputation!;)) I am getting ready to run my very first give-away on my little blog! I have linked to give-aways before, but never done one on my own, so I am SO EXCITED about this one. I can't give you any details, nope, don't even ask. BUT, I
can
say that you will want to become a
FOLLOWER OF MY BLOG
quickly if you are not publically following it already! It's super easy! Just click on the "follow" button and follow the instructions. It will take you like two seconds. That's all I can say! Hehe...I am leaving you in suspense...details will follow soon! :)
Jen