So, check this out!!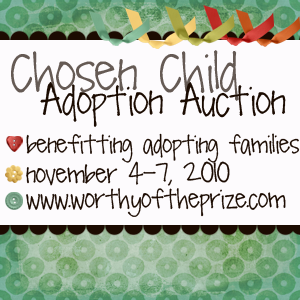 Worthy of the Prize ministries has impressed us YET AGAIN by doing this auction to help their adoptive families (including yours truly) raise money for the crazy costs of adoption.
AND
, Cap Creations, in conjunction with WOTP, is offering a give-away for their AMAZING jewelry for promoting this auction. You can view the details of this give-away
here
.
So, here's what you can do:
1.
Donate to the auction
. They are looking for anything handmade (hint, hint, you creative friends) or other things that you could donate if you own a business, etc. And, get this...if you donate on our behalf, half of the proceeds from your item will go to our account! PLEASE let anyone you think would like to donate know this...we can use ALL the help we can get! :) If you've got something to donate, just contact Erin at
worthyoftheprize@yahoo.com
with a picture of and information about your donation.
2.
Help us promote the auction.
You can get the buttons for your blog here or here. (Don't forget to leave a comment and get entered into the drawing for Cap's Creations if you help promote!)
3.
Shop til you Drop
at the auction. It will be on the Worthy of the Prize website November 4-7...mark your calendars!!
As always, thank you for your love, prayers, and financial support throughout this journey!!